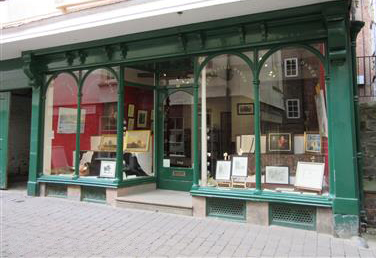 For the past twenty years, The Valentyne Dawes Gallery has occupied one of Ludlow's most prestigious early 17th Century buildings. From here we exhibit an excellent collection of paintings with a strong emphasis on 19th Century maritime pictures.
In addition, we are the UK's sole dealer for the Dutch master Frits Goosen and Rene Legrand, a leading contemporary impressionist painter.
Our collection is housed over two floors with the oak panelled upper gallery being the jewel in our crown.
The gallery has built up a strong reputation for selecting major pieces by some of the most important maritime painters, such as: William Anderson, Abraham Hulk, Thomas Whitcombe and Thomas Luny to name but a few.
Moreover, Modern British and Cornish artists are also extremely well represented.
Our aim is to make purchasing an original painting an informative and pleasurable experience, with free advice on investment, restoration and framing.
We look forward to welcoming you in The Valentyne Dawes Gallery.
Please make sure you add us to your Favourites to stay up to date with The Valentyne Dawes Gallery.